GMC WESTERN STATES RALLY
Western States Spring Rally
April 11 - 16, 2015

.
LATEST SCHEDULE
http://gmcws.org/blog/?p=3152
TIME IS SHORT
THERE IS "STUFF" GOING ON
- do you know how to find GMC information on the net?
-have you seen the inside of 30 GMC's and the mods?
- do you know how to use FACEBOOK to see GMC info?
- do you know how to change your steering boots
- have you ever talked to 60 GMC owners?
---------------------------------------
THERE IS NO SUCH THING AS -SOCIAL OR TECH, GMC RALLYS
THERE ARE ONLY GMC RALLY'S
JOHN RUFF
has always been our "right hand" guy at rally's
probably sold more "FLUKES"than anyone I know
met him here years ago
he may not play "jokers n marbles"
but try to talk "non-tech" to him
GMC'S may be the reason he moved out of the cold
STEVE AND HIS LOVELY WIFE NANCY
this EX----COP
- has been our favorite ----SOB
on----- GMC
is the king of---- VID
an expert on ----EFI
the object of 3 letter achronims , and -----ATOMIC'S
he is teaching here see below
----------------------------------------------------
http://www.gmcmhphotos.com/photos/push-button-start-switch/p50257-slide140.html
-FREE "TAP" TO THE FIRST 100 WHO ASK ME FOR ONE
AT THE RALLY
DO NOT WALK - RUN TO THIS RALLY
It will be held at the beautiful Emerald Desert RV Resort, Palm Desert, CA.
Deadline to Register is APRIL 4, 2015

. Come join the fun.
For more information or to download a registration form, go to the GMC Western States website: www.gmcws.org.
MAN ON THE RUN
http://www.appliedgmc.com/
CALL TO GET YOUR PARTS AT THE RALLY
FREE SHIPPING
PICKUP AT THE RALLY
GMC WOOD PRODUCTS
BY GEORGE BANOVICH (49er)
LINK
---------------------------------------------------------
Don't miss out on a great technical seminar line-up!
.
"Vapor Lock", theories and facts - Armand Minnie
There has been lots of discussion on this hot topic in recent years. This seminar will displace theories and present facts about the causes of vapor lock and what can be done to eliminate it.
Rebuilding the 455 Engine -
For the gear heads out there who like to do their own work -- you won't want to miss out on this seminar which includes a very detailed slideshow presentation.
Installing the MSD 2900 Atomic EFI on my 23' GMC

- Gene Fisher
This seminar details Gene's experience of installing the Atomic EFI System and what he has learned since.
http://gmc49ers.blogspot.com/2014/12/my-atomic-1973-23.html
WILL BE THERE TALKING ABOUT HIS -OVER 50 ATOMIC INSTALLS
http://gmc49ers.blogspot.com/2014/05/msd-2900-atomic-tbi-efi.html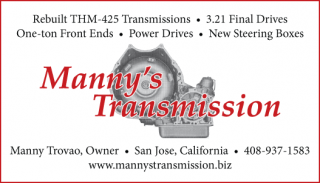 "Improved MPG with HHO System"

- Chuck Botts
This seminar's presentation will depict the installation, detail the costs and fuel mileage increase achieved. Chuck's coach will be available for all to see his HHO System.
(2013 PRESENTATION)
http://www.gmcws.org/blog/wp-content/uploads/2012/10/Botts%20fuel%20cell%20seminar.pdf
Towing - safety, features, auxiliary brakes, etc. - Blue Ox Representative
Blue Ox is known internationally for its quality towing products, from tow bars and baseplates to steering controls systems, supplementary brakes, and everything in between. This should be an informative seminar with an expert ready to answer your towing questions.